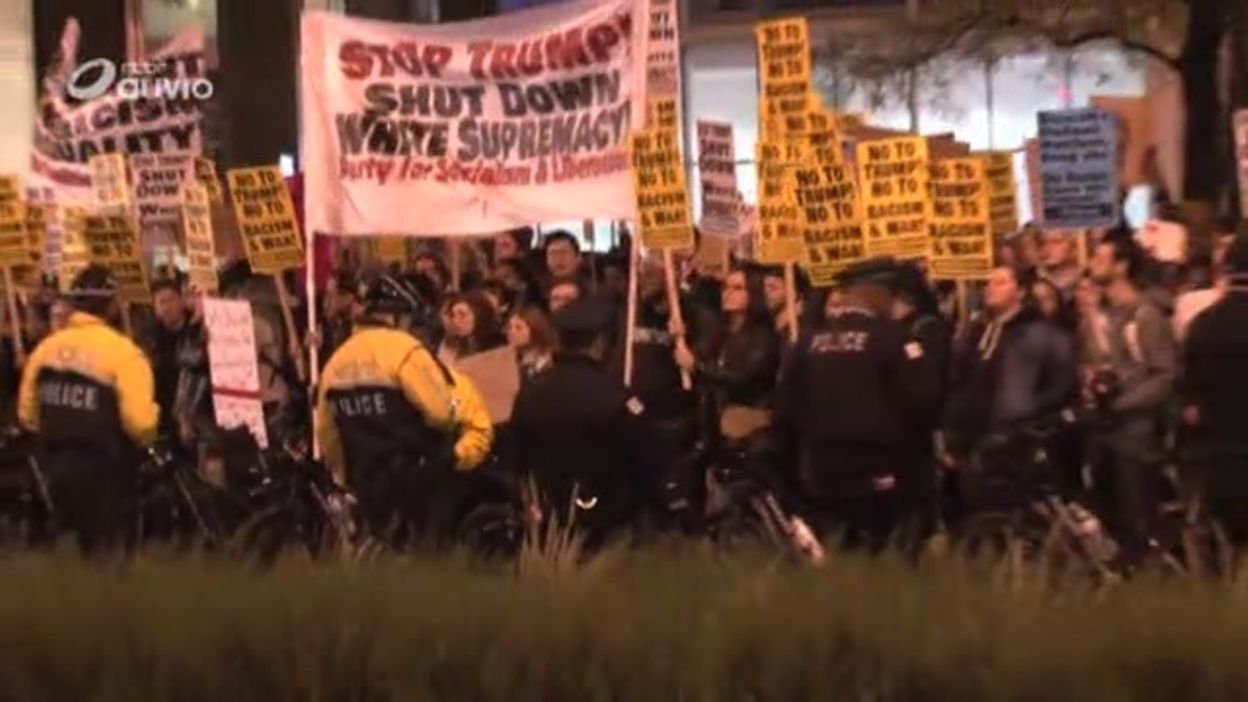 Los manifestantes anti-Trump son herramientas de la oligarquía
por Paul Craig Roberts (ex Subsecretario del Tesoro de los EE.UU. durante presidencia Reagan y ex editor de The Wall Street Journal), en
Institute of Political Economy
. Traducción de Leonardo Del Grosso
"La reforma siempre provoca furia por parte de aquellos que se benefician del viejo orden". Arthur M. Schlesinger, Jr., La Crisis del Viejo Orden
¿Quiénes son los manifestantes anti-Trump manchando el nombre de progresistas pretendiendo ser progresivos y negándose a aceptar el resultado de las elecciones presidenciales? Parecen, y están actuando peor que, la "basura blanca" que están denunciando.
Creo que sé quiénes son. Son matones por contrato y son pagados por la Oligarquía para deslegitimar la presidencia de Trump de la misma manera que Washington y el Fondo Marshall alemán pagaron a los estudiantes en Kiev para protestar contra el gobierno ucraniano elegido democráticamente, para preparar el camino para un golpe.
La organización change.org, que pretende ser un grupo progresista, pero podría ser un frente, junto con otros grupos progresistas, para la Oligarquía, está destruyendo la reputación de todos los progresistas mediante la circulación de una petición que dirige a los electores del Colegio Electoral para anular las elecciones emitiendo sus votos para Hillary. ¿Recuerdan cómo los progresistas estaban trastornados cuando Trump dijo que no aceptaría el resultado de la elección si hubiera evidencia de que la votación fue arreglada? Ahora los progresistas están haciendo lo que condenaron a Trump por decir que podría hacerlo bajo ciertas condiciones.
Los "presstitutes" occidentales utilizaron las protestas en Kiev para deslegitimar a un gobierno elegido democráticamente y para acomodarlo para un golpe de Estado. La paga de la protesta era lo suficientemente buena como para que los no-ucranianos vinieran de países cercanos para participar en la protesta y cobrar el dinero. En ese momento yo contabilizaba las cantidades pagadas diariamente a los manifestantes. Los informes llegaron a mí de Europa oriental y occidental de personas que no eran ucranianas, pero fueron pagados para protestar como si fueran ucranianos.
Lo mismo sucede con las protestas contra Trump. CNN informa que "para muchos estadounidenses en todo el país, la victoria de Donald Trump es un resultado que simplemente se niegan a aceptar. Decenas de miles de personas llenaron las calles de por lo menos 25 ciudades estadounidenses de la noche a la mañana". Ésta es la información exacta que la Oligarquía deseaba de sus "presstitutes" y obtuvo.
Supongo que nadie piensa que las protestas simultáneas en 25 ciudades fueron un evento espontáneo. ¿Cómo lograron las 25 protestas independientes llegar a las mismas consignas y los mismos signos en la misma noche después de las elecciones?
¿Cuál es el punto de las protestas, y a qué interés sirven? Como los romanos siempre preguntaban, "¿quién se beneficia?"
Sólo hay una respuesta: la Oligarquía y sólo la Oligarquía se beneficia.
Trump es una amenaza para la Oligarquía, porque tiene la intención de detener la entrega de empleos estadounidenses a los extranjeros. La oferta de empleos, santificada por los economistas de la chatarra neoliberal como "libre comercio", es una de las principales razones del empeoramiento de la distribución del ingreso en el siglo XXI. El dinero que anteriormente se pagaba en los salarios de la clase media y los salarios a los empleados fabriles estadounidense y graduados de la universidad se ha reencaminado a los bolsillos del Uno por Ciento.
Cuando las corporaciones estadounidenses trasladan su producción de bienes y servicios que venden a los estadounidenses a países asiáticos, como China e India, su factura salarial disminuye. El dinero pagado anteriormente en los ingresos de la clase media va más bien a bonos ejecutivos y dividendos y ganancias de capital a los accionistas. Las escalas de movilidad ascendente que habían hecho de América la tierra de la oportunidad fueron desmanteladas con el único propósito de hacer multimillonarias a un puñado de personas.
Trump es una amenaza para la Oligarquía porque tiene la intención de relaciones pacíficas con Rusia. Para reemplazar la rentable amenaza soviética, la Oligarquía y sus agentes neoconservadores trabajaron horas extras para recrear la "amenaza rusa" demonizando a Rusia.
Acostumbrado a muchas décadas de exceso de beneficios de la lucrativa Guerra Fría, el complejo militar/de seguridad estaba enfadado cuando el Presidente Reagan puso fin a la Guerra Fría. Antes de que estas lixivias sobre los contribuyentes estadounidenses pudieran hacer que la Guerra Fría volviera, la Unión Soviética se derrumbó como resultado de un golpe de derecha contra el presidente soviético Mijail Gorbachov.
El complejo militar/de seguridad y sus agentes neoconservadores sionistas prepararon "la guerra contra el terror" para mantener el dinero fluyendo hacia el Uno por Ciento. Pero tan duro como trabajaron los medios "presstitutes" para crear miedo a la "amenaza musulmana", incluso los ignorantes estadounidenses sabían que los musulmanes no tenían miles de ICBMs portando potentes armas termo-nucleares capaces de destruir la totalidad de los Estados Unidos en unos minutos. Tampoco los musulmanes tenían el Ejército Rojo capaz de invadir toda Europa en un par de días. De hecho, los musulmanes no han necesitado un ejército. Los refugiados de las guerras de Washington permitidos por los europeos están invadiendo Europa.
Faltaba la excusa para el presupuesto militar/de seguridad anual de billones de dólares ($ 1.000 millones). Así que la Oligarquía creó "el Nuevo Hitler" en Rusia. Hillary fue el principal agente de la Oligarquía para calentar la nueva Guerra Fría.
Hillary es la herramienta, enriquecida por la Oligarquía, cuyo trabajo como Presidente era proteger y aumentar el presupuesto de un billón de dólares del complejo militar/de seguridad. Con Hillary en la Casa Blanca, el saqueo a los contribuyentes estadounidenses en beneficio de la riqueza del Uno por Ciento podría seguir adelante sin parpadear. Pero si Trump resuelve "la amenaza rusa" la Oligarquía recibe un golpe en sus ingresos.
El trabajo de Hillary como presidente también era privatizar el Seguro Social para que sus benefactores de Wall Street pudieran pelar a los estadounidenses de la forma en que los estadounidenses han sido robados por las compañías de seguros bajo Obamacare.
Aquellos estadounidenses que no prestan atención piensan, erróneamente, que el FBI autorizó a Hillary a violar los protocolos de la Seguridad Nacional con sus prácticas de correo electrónico. El FBI dijo que Hillary violó la Seguridad Nacional pero que fue resultado de descuido o ignorancia. Ella zafó de la acusación porque el FBI concluyó que ella no violó intencionalmente los protocolos de la Seguridad Nacional. La investigación de la Fundación Clinton continúa.
En otras palabras, con el fin de proteger a Hillary, el FBI cayó en la antigua regla de la ley común de que "no puede haber crimen sin intención".
(Véase PCR y Lawrence Stratton, The Tyranny of Good Intentions).
Uno pensaría que los manifestantes, si fueran legítimos, estarían celebrando la victoria de Trump. Él, a diferencia de Hillary, promete reducir las tensiones con la poderosa Rusia, y esperamos también con China. A diferencia de Hillary, Trump dice que está preocupado por la falta de trabajo para esas mismas personas que protestan en las calles de 25 ciudades contra él.
En otras palabras, las protestas contra el pueblo estadounidense por haber elegido a Trump como su presidente no tienen sentido. Las protestas están ocurriendo por una sola razón. La Oligarquía tiene la intención de deslegitimar la Presidencia Trump. Una vez que el Presidente Trump sea deslegitimado, será más fácil para la Oligarquía asesinarlo. A menos que la oligarquía pueda nombrar y controlar el gobierno de Trump, Trump es un candidato de primer orden para el asesinato. Las protestas contra Trump son sospechosas por otra razón. A diferencia de Hillary, Obama y George W. Bush, Donald Trump no ha matado y dislocado a millones de personas en siete países, enviando a millones de refugiados de las guerras de la Oligarquía para invadir Europa.
Trump ganó su fortuna, y si por el gancho o el ladrón, no vendiendo la influencia del gobierno de los EEUU a los agentes extranjeros como lo hicieron Bill y Hillary.
Entonces, ¿qué es lo que protestan los manifestantes?
No hay respuesta excepto que son contratados para protestar. Al igual que los manifestantes Maidan en Kiev fueron contratados para protestar por las ONG financiadas por EE.UU. y Alemania.
Las protestas en Kiev eran igualmente inútiles, porque las elecciones presidenciales estaban a sólo meses de distancia. Si los ucranianos creían realmente que su presidente estaba conspirando con Rusia para evitar que Ucrania se convirtiera en un estado títere occidental y deseaba convertirse en un estado títere sin importar los costos, la oportunidad de votar al gobierno estaba a la mano. La única razón de las protestas fue orquestar un golpe. Los Estados Unidos lograron poner a su agente en el control del nuevo gobierno de Ucrania, como Victoria Nuland y el embajador de EE.UU. en Kiev confirmaron en su conversación telefónica que está disponible en Internet.
Las protestas de Maidan eran inútiles excepto para hacer posible un golpe. Las protestas fueron sin duda organizadas por Washington a través de la secretaria de Estado adjunta, Victoria Nuland, una neoconservadora traída al Departamento de Estado por Hillary Clinton con el propósito de crear un conflicto con Rusia.
Trump está siendo objeto de protestas en contra para hacerle vulnerable en el caso de que demuestre ser la amenaza a la Oligarquía que se piensa que es. Trump ganó la presidencia, pero la Oligarquía todavía está en el poder, lo que hace que cualquier reforma real sea difícil de lograr. Las reformas simbólicas pueden ser el producto de la contienda entre el Presidente Trump y los oligarcas.
Karl Marx aprendió de la experiencia histórica, y Lenin, Stalin y Pol Pot aprendieron de Karl Marx, que el cambio no puede ocurrir si la clase dominante desplazada se deja intacta después de una revolución contra ellos. Tenemos pruebas de ello en Sudamérica. Toda revolución del pueblo indígena ha dejado sin molestar a la clase dominante hispánica, y toda revolución ha sido derrocada por la connivencia entre la clase dominante y Washington.
Washington ha conspirado con las élites tradicionales para eliminar a los presidentes electos de Honduras en varias ocasiones. Recientemente, Washington ayudó a las élites a desalojar a las mujeres presidentes de Argentina y Brasil. Los presidentes de Venezuela, Ecuador y Bolivia están en la mira y es poco probable que sobrevivan. Washington está decidido a poner sus manos sobre Julian Assange. Para lograr esto Washington tiene la intención de derrocar al gobierno ecuatoriano que, desafiando a Washington, le dio asilo político a Julian Assange.
Hugo Chávez tuvo el poder de exiliarse o exterminar a la clase dominante hispánica en Venezuela cuando la clase dominante participó en un golpe de la CIA contra Chávez. Pero antes de que la CIA pudiera matar a Chávez, el pueblo y los militares obligaron a su liberación. En vez de castigar a los criminales que lo hubieran asesinado, Chávez los dejó ir.
Según Marx, Lenin y Stalin, este es el error clásico del revolucionario. Confiar en la buena voluntad de la clase dominante derrocada es el camino cierto a la derrota de la revolución.
América Latina ha demostrado ser incapaz de aprender esta lección: las revoluciones no pueden ser conciliatorias.
Trump es un hacedor de pactos. La Oligarquía puede permitirle el brillo del éxito a cambio de ningún cambio real.
Trump no es perfecto. Podría fallar por su cuenta. Pero debemos apoyarlo en los dos elementos más importantes de su programa: reducir las tensiones entre las principales potencias nucleares y detener la política de Washington de permitir que el globalismo destruya las perspectivas económicas de los estadounidenses.
Si las tensiones entre las potencias nucleares empeoran, no estaremos aquí para preocuparnos por otros problemas. La combinación de la economía vaciada por el globalismo y la inmigración es una pesadilla económica. La comprensión de esto por Trump es razón para apoyarlo.
Nota: Algunos creen que Trump es un ardid llevado a cabo por la Oligarquía. Sin embargo, como Hillary es la representante comprada y pagada de la Oligarquía, un truco tan elaborado es innecesario. Es preferible que la Oligarquía gane en su propia plataforma que instalar un presidente en la plataforma opuesta y luego cambiarlo. Otra traición aumenta la ira de la gente. Si Hillary hubiera ganado, la Oligarquía habría tenido el mandato de los votantes para su plataforma.